Yo, I'm Brian. You found my website!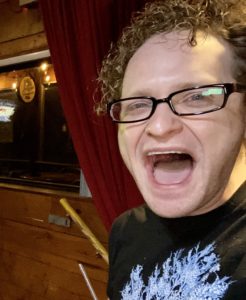 I'm a Data an AI Scientist at Target, a resident of Minneapolis and husband to Alicia. Close friends call me an attention whore and a jerk, but they say that affectionately.
Is a reasonable "About You" page supposed to feature what you currently care about? Let's try it:
The Minneapolis Miracle – a walk-off-touchdown play by the Minnesota Vikings to continue their 2017 season playoff berth. That season, the Superbowl was in Minneapolis, so the Vikings winning that game was one step closer to history. Even if they subsequently lost, faith was briefly vindicated that day.
Hacker News – definitely the website I check most.
Drag – I'm a big supporter of the Minneapolis drag community and I've seen nearly every season of Ru Paul's Drag Race.
Igor by Tyler, the Creator – I've been a fan of Tyler since 2013 and I can listen to "Igor" (his latest album) straight through. He was also the best show I saw in 2019.
Todoist – my goto productivity app. My karma is 32k and rising.
Caravan Palace – They are a french "electro-swing" band, but that's almost not fair to describe them as such, since they practically invented the genre.
I don't know if you've noticed this in your life, but it's super weird how passions change. Things that were previously super important sort of fade into the background. Previously, I've loved:
Reddit
Journaling at a bar
Jenga
Pizza
Scotch
Bitcoin
Board Games, especially Risk, Monopoly, Dominion, Last Will, Race for the Galaxy
Mathematics, specifically set theory and graph theory
Rock Band, the video game
Puzzles such as Project Euler
Philosophy
downtempo music
Everquest
Computers in general, I had a vintage Mac collection at one point
Blacklights and lava lights
New York City
Khan's Mongolian BBQ in Richfield, MN
No Limit Texas Hold'em
Bowling
Shaft
…this isn't to say I don't care about these things, but they're more fond memories of previous joy, not currently exciting.
Hit me up on Twitter, I'm @BrianCopeland. Thanks for stopping by!
ps – interested in stalking me? Why not go farther back than (edit 2023: google sites is down, will load backup soon) this blog?